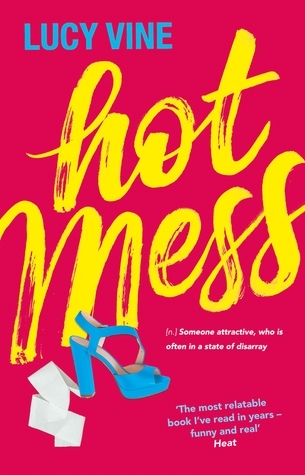 Title:
Hot Mess
Author:
Lucy Vine
Publisher:
Orion
Publication date:
July 2017
Genres:
fiction, chick-lit, adult
Pages:
304
Format:
Paperback
Source:
Bought
Buy the book (Waterstones) | Buy the book (Amazon)
Synopsis:
Have you ever shown up to Sunday brunch still smelling of Saturday night? Chosen bed, Netflix and pizza over human contact? Stayed in your mould-ridden flat because it's cheap?
Meet your spirit animal, Ellie Knight. Her life isn't turning out exactly as she planned. She hates her job, her friends are coupling up and settling down, and her flatmates are just plain weird.Some people might say she's a hot mess but who really has their sh*t together anyway?
My rating: 3/5
Hot Mess was a witty and sharp book, and it has been hailed to be the next Bridget Jones. In many areas of the novel, I did enjoy reading Vine's writing, but in others...not so much.
In Vine's novel, we follow the story of Ellie, who is twenty-nine and is single. Like many people, she has her fair share of family drama and a handful of bad dates. What I thought was particularly interesting is that Vine clearly highlights the pressures of modern dating, and I did enjoy seeing how these pressures affect the protagonist. Ellie is a funny character, even quite sassy at times, and this does make her strong and well-written, however, she can get very whiny at times which did get annoying, and on some occasions, I felt that Ellie was more of a teenager than an actual adult. But, generally, Ellie was a good character. Although, I would've liked to have known more about the protagonist, as the majority of Vine's novel was mainly focused on Ellie disliking her job, her flat and most of her dates - however reading through Ellie's dates did make me giggle occasionally. Hot Mess does have an interesting set of characters, and for some of the characters, I thought that their relationship with the protagonist was fantastically written - but I do have to admit that some things between certain characters were quite predictable and it did ruin the surprise when these things actually happened.
The plot was okay to read, in many areas I was totally gripped, and Vine does do a good job of building a connection with the reader. Although, there are certain parts of Hot Mess which I feel didn't really add to the plot and was therefore not really necessary to include - I feel that these parts were added to pad out the chapter length. But what was really great about Hot Mess is the writing style that Vine presents. Vine does do a great job of pulling you in from the first page, and she does keep you engaged for the whole novel. I also really loved how Vine kept her main message all the way from start to finish, and that really helped with leaving a strong impact by the end of the novel.
If you love reading about disaster dates, or you're just looking for a comedy chick-fit - Hot Mess is something for you.