BOOK REVIEW: The Coldest Girl in Coldtown by Holly Black
14:44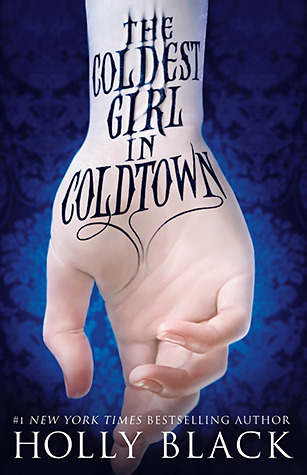 Tana lives in a world where walled cities called Coldtowns exist. In them, quarantined monsters and humans mingle in a decadently bloody mix of predator and prey. The only problem is, once you pass through Coldtown's gates, you can never leave.

One morning, after a perfectly ordinary party, Tana wakes up surrounded by corpses. The only other survivors of this massacre are her exasperatingly endearing ex-boyfriend, infected and on the edge, and a mysterious boy burdened with a terrible secret. Shaken and determined, Tana enters a race against the clock to save the three of them the only way she knows how: by going straight to the wicked, opulent heart of Coldtown itself.
The most praised vampire book that is out at the moment,
The Coldest Girl In Coldtown
is the top of all supernatual books that is out there. Yes, it beats the
Morganville Vampires
and the
House of Night Trilogy.
And even though it may be a stand alone novel, Holly Black's novel gives you a different take on how people become vampires and what Holly had in mind for her book.
Now don't get me wrong,
The Coldest Girl In Coldtown
may seem lame to you but in all honestly this book is amazing. Since word came out that this book was getting puplished. It was my soul mission to get this book. Well that mission sucked until YALC where I was able to pick up the book. And as a bonus of getting this outstanding book, I met Holly! (BTW she is doing the signing with CASSANDRA CLARE OMG!!!! I'm trying to get tickets for their event in London for the sixth of October.) I fell in love with this novel the moment my eyes laid onto page one. I just really loved the aspect of the main character, Tana, waking up and being surrounded by dead and bloodied bodies. That was a real thing that drew me into the book. Action from page one! Brilliant!
This was my first Holly Black novel and I am very pleased that it was a fantasic outcome otherwise I would not know where I would be currently. I did not expect there to be so much action in this book and I guess that really pleased me. The way Holly has written her novel has been done brilliantly, except with a few minor bits I didn't enjoy.
The Coldest Girl In Coldtown
's sentences really link well with each other and it is really hard to loose your place in the book. I was sucked into a world of chaos-Which I tend to like from time to time.
I really enjoyed Holly's book and I really want more from this book. I.E. MORE BOOKS PLEASE! This book is really worth reading and I think I will want to read more of Holly Black's books! :D