BOOK REVIEW: Crown Of Midnight by Sarah J Maas (Throne of Glass #2)
19:33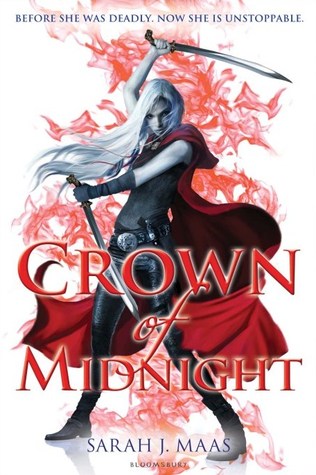 Eighteen-year-old Celaena Sardothien is bold, daring and beautiful – the perfect seductress and the greatest assassin her world has ever known. But though she won the King's contest and became his champion, Celaena has been granted neither her liberty nor the freedom to follow her heart. The slavery of the suffocating salt mines of Endovier that scarred her past is nothing compared to a life bound to her darkest enemy, a king whose rule is so dark and evil it is near impossible to defy. Celaena faces a choice that is tearing her heart to pieces: kill in cold blood for a man she hates, or risk sentencing those she loves to death. Celaena must decide what she will fight for: survival, love or the future of a kingdom. Because an assassin cannot have it all . . . And trying to may just destroy her.
People, that I know who have read this book, had told me that this book was better than
Throne of Glass
. At first, I didn't believe them because, hey, what book can be better than
Throne of Glass.
So I started
Crown of Midnight
with eger excitement because I wanted to get my own opinion on this book. I was going to read
Crown of Midnight
anyway because after reading
Throne of Glass
, I instantly became a fan of Sarah J Maas! The book really gripped me from page one and the way the sentences were written amazingly. Every word drags you deeper into the story, and depending on who is your favourite character is, I think that you become one of the characters. Sarah J Maas has done the outstanding again with her fantasic novel! Like all of Sarah J Maas's novels,
Crown of Midnight
is full of description and each scene is so brilliantly vivid!
All the characters in this novel have come back more badass than before and I really love this feature of this book because you get to know more about the main characters' history!
I totally ship Chaol and Celaena!
Anyway, the same writing format is used in
Crown of Midnight
and I think that is my favourite thing about this series. You really get to know what the characters really think of the situation they are in.
I litteray am struggling to put words down on this page.
Sarah J Maas's novel is set a little after the events in
Throne of Glass
and I think that was a good way of setting this book because it is easy to follow because the first novel was a) easy to get into and b) flipping brilliant! This book does follow a love triangle and to be honest, I am not really fan of love triangles. I don't really know why, I just don't really like the idea of them! D:
This book has been so carefully plotted, it is easy to immurse yourself into the world that Maas has created. I adore Celaena and I think she has to be one of my favourite heroines ever. (Apart from Katniss, Hermione, Clare, Zoey...) I believe that Celaena is a brilliantly written character and I loved all of her scenes and actions that eventually brought me to heartbreak. (There are so many heart breaking scenes in this book! BRING TISSUES!)
This book is pretty much kick ass and I really want you to read this! GO OUT AND BUY IT!