BOOK REVIEW: The Isobel Journal by Isobel Harrop.
06:00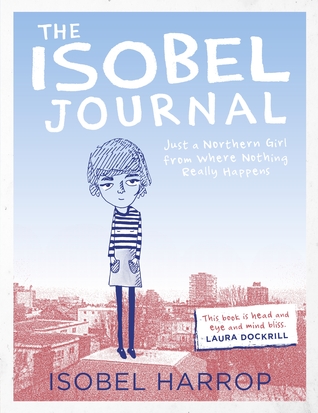 THE ISOBEL JOURNAL is no ordinary snapshot of a contemporary teenage life. A charming and vivid narrative scrapbook of the eighteen-year-old author's sketches, mini-graphic novels, photographs and captions, it captures her wit, her observations and her creative talent as she takes us through the three central themes in her life: 'Love', 'Friends, Art and Otters' and 'Me'.
This is one hell of a good book! The Isobel Journal is brilliant, funny and it has to be one of the best educational novels I have ever read and even seen! I have been trying to get this book for ages and I managed to grab a copy at YALC! I managed to meet Isobel as well! This novel is a real eye opener if you are a teenage girl or hell, even if you are a teenage boy! The author of this novel has used her real life experiances and own drawings to be used in her amazing novel and this gives it a real origional effect! I know that the cover isn't really appealing but if you look inside, you will be sucked into Isobel's life! During this novel, I really got to know the author and this was a brilliant affect on me because you usually don't get to know a lot about the author when you read their books! So reading The Isobel Journal grabs you into that perspective!
So I was reading this book I and when I had finished it, I descovered that the author owns a blog ON BLOGGER (yeah...we rock! Sorry WordPress users.) And I will put the link at the end of the review! I really fell in love with this novel and I was really shocked to find out that the author is 19! That is just brilliant and that is another reason why I want to become an author at a youngish age! :D I really loved the part about boyfriends because it shows you how to deal with break ups and stuff and this novel also makes you fall in love with everyone in the same room that you are reading The Isobel Journal in! This book is on it's way to becoming an ingenius book! This book is quite small so this is why the review is small as well! I think that the author's drawings have been done really well and even though there are few words, these drawings make up for more than a thousand!
I totally recommend this novel, it is cheeky and funny and so outstanding you will not be able to put this novel down! The Isobel Journal has twists and turns and I am so happy that Hot Key Books has published this novel! So thank you for that and just go read this book! It will render you speechless! There were a few things I didn't like in The Isobel Journal but that hasn't really affected my opinion so YAY! Please meet Isobel if you have the chance, she is such a wonderful person to be around with! DFTBA!