BOOK REVIEW: Marked by PC and Kristen Cast. (House of Night #1)
18:17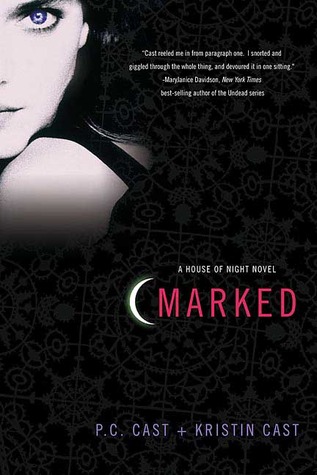 After a Vampire Tracker Marks her with a crescent moon on her forehead, 16-year-old Zoey Redbird enters the House of Night and learns that she is no average fledgling. She has been Marked as special by the vampyre Goddess Nyx and has affinities for all five elements: Air, Fire Water, Earth and Spirit. But she is not the only fledgling at the House of Night with special powers. When she discovers that the leader of the Dark Daughters, the school's most elite club, is mis-using her Goddess-given gifts, Zoey must look deep within herself for the courage to embrace her destiny – with a little help from her new vampyre friends (or Nerd Herd, as Aphrodite calls them)
I think that this novel has to be one of the best vampire books I have ever read! (Apart from
The Morganville Vampire Series
, now that is one hell of a good series!) The idea of becoming a vampyre, a mortal vampire, in this series is very different from the true origins. So therefore, I liked
Marked
even before I was ten pages in! The cover for this novel didn't really attract me and I know I hate the term
"don't judge a book by it's cover."
but sometimes, the cover does sometimes attract the reader to read the blurb/book. Anyway, when I did read the blurb I thought that this book sounded really good and I wanted to try it out. Because hey, it's a vampyre novel and I am addicted to the vampyre/vampire side. (Not really a fan of werewolves. Sorry
Twilight
fans.) From the first page, the authors of this novel make it sound really clear to who is talking and to whom they are talking to. The writers make that main character (Zoey.) make her story really personal because she uses the word "you" a lot. Now don't get me wrong, but it is really hard to find books now days when the character is directly speaking to the reader. I thought that it was amazing, also, that the vampryes were given powers as well as some really cool tattoos that do not hurt as bad as having one done with a needle. Each and everyone of the characters in
Marked
link well with each other, they don't seem as though they were just thrown into the novel because the author, or in this case
authors
, just wanted to write a best-seller novel. Puh-lease! You need to write the characters as if they were a team because they are one of the foundations of the novel.
Admittedly, I did start with the second book of the series. But that was only because somebody in my school had taken out the first when I had wanted to read it. Due to this series being very well written, you can start on any book and still know what is currently happening. I think that has been done very well and when I was reading the second book,
Betrayed
, I knew what sort of happened in the first. I had the gist of it. I thought that each of the male characters were written to perfection (well, of course I would. How would I have so many book boyfriends if I didn't?) and I could get really clear images of what they looked like. Most of this book whizzed by because it was so good! I couldn't put this book down and I think I did finish
Marked
within a few hours or so. I can't remember! I haven't read this book in, like, two years and I do want to carry on with the series because new books have been realised. The plot in
Marked
is so different from other vampire (sorry vamprye) books I have read before. Many of the novels I have read are usually based around the same plot line. Well this series isn't and I think this is a good way of getting out of boredom if you are in a situation like that. And I like how the authors have used a Greek Goddess in their creative writing.
This book is really worth reading and I do recommend it to the up most of vampire book fans. I even want flipping
Twilight
fans to get off of their butts so they can read something better than a book that was written in hell. (Yes I am talking about the sparkly vampires.) Even if you don't like this book, I bet you that you will love one of the characters. No doubt! The
House of Night
series is very addictive and I know one person, of whom I recommended this series to, is now obsessed with these novels and she has not stopped reading them! (I think she has read them, what like, four or five times now?) This novel is worth reading with a cup of tea because you will be screaming at the characters and even the plot because of the rising and falling and the twists and the turns in the plot. I think this novel shows up any vampire book that stands in it's way. I think there are about ten or so books in this series and I urge you to go out to Waterstones, Amazon and even the Book Depository to splash out your money so this book series has a proud place on your book shelf. (Or if you are like me, a proud stack of books on the floor. The beginning was slightly rushed, but I don't really care!
Now go bookworms, go read
Marked
and tell me what you think! This is one hell of a book that needs to be recognised and (hopefully) turned into a Book-To-Film-Adaptation. Go but it nowwww! DFTBA!