BOOK REVIEW: City of Bones by Cassandra Clare
06:00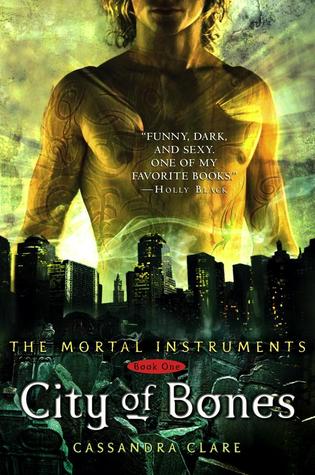 When fifteen-year-old Clary Fray heads out to the Pandemonium Club in New York City, she hardly expects to witness a murder― much less a murder committed by three teenagers covered with strange tattoos and brandishing bizarre weapons. Then the body disappears into thin air. It's hard to call the police when the murderers are invisible to everyone else and when there is nothing―not even a smear of blood―to show that a boy has died. Or was he a boy?

This is Clary's first meeting with the Shadowhunters, warriors dedicated to ridding the earth of demons. It's also her first encounter with Jace, a Shadowhunter who looks a little like an angel and acts a lot like a jerk. Within twenty-four hours Clary is pulled into Jace's world with a vengeance, when her mother disappears and Clary herself is attacked by a demon. But why would demons be interested in ordinary mundanes like Clary and her mother? And how did Clary suddenly get the Sight? The Shadowhunters would like to know...

Exotic and gritty, exhilarating and utterly gripping, Cassandra Clare's ferociously entertaining fantasy takes readers on a wild ride that they will never want to end. (Goodreads)
City of Bones,
written by Cassandra Clare, is a book with a twist. It has demons, heroes, heroines and mythical creatures. Sure, it is set in the same town as
Percy Jackson
but this world has been wonderfully created with some brilliant, different ideas on how to draw in the reader into Clare's novel.
City of Bones
is one beast of a book. And I do not mean by page size or any of that stuff, but I mean by the plot line and how the reader reacted to certain twists. This novel is action packed which, would make you spit out your popcourn/drink or any other food. Everything about this book screams "READ ME AND LOVE ME OTHERWISE I WILL STAB YOU WITH A SERAPH BLADE!" This book doesn't feel like the words have been put there because the author wanted to write a smash hit, but this book feels like that Clare wanted to write this book for a certain reason. Now, I don't know what this reason was but it makes
City of Bones
work really well.
The characters in Clare's novel have been done perfectly. Even the Institute's cat,
Church
! (Such a funny name for a cat!) My favourite charater, obviously, has to be
Jace
because he doesn't seem like a normal male character I usually come across in all of the novels I have read in the past.
Jace,
at first, seems really hard to like but he really grows in this book. The author makes this character appear in your head in any form you want. My verson is excatly like Jamie Campell-Bower, who played
Jace
in The Mortal Instruments, City of Bones movie! I loved most of the characters, most
Alec
and
Magnus
and I just adore the relationship between the different characters when something happens. I really find it facinating when the author of a book make the characters react in the same way normal people would in certain situations. However, there were some characters that I weren't too sure of because I didn't think they were wrote to a point that I would like them enough. One of the characters I didn't like was
Clary
. I just didn't like her attitude in the book and she didn't seem as if she really belonged to the novel.
In
City of Bones
, the plot was amazing! The characters really flowed in well and the scenes changed nicely. I thought that each of the chapters linked with each other so you could remember what was happening. Clare has included so many mythical creatures in this novel, I have lost count and there is so much wit in this book! There are so many shocking parts in this plot; espcially towards the end which suddenly makes you want to read the next book. (
City of Ashes.
) Throughout the whole novel, I was trying to guess what would happen next. I was always wrong. But that is the beauty of this book! You will guess that one thing will happen and then Clare would come in sneakily and do the unexpected!
City of Bones
is a must read book!
To conclude,
City of Bones
was a really good novel and it is worth reading. Apart from a few things that wern't up to my expectations, I did enjoy this book!
City of Bones
is the first novel in the outstanding
The Mortal Instuments
series which is set years into the future after
The Infernal Devices
. There are six books in the series and my reviews will come soon! (
City of Ashes
and
City of Glass
are due to come this month!) DFTBA!