REVIEW: Frankenstein by Mary Shelley.
18:04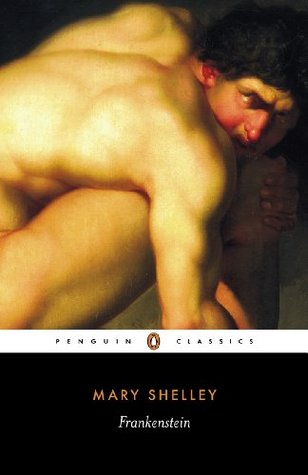 Frankenstein by Mary Shelley.
Published by Penguin Classics on May, 6th, 2003. (Originally published in the UK in 1818.)
Genres Classic, Gothic Fiction, Horror, Science Fiction.
Pages 273.
Format Paperback.
Source Brought.

Novel Synopsis:
Obsessed with the idea of creating life itself, Victor Frankenstein plunders graveyards for the material with which to fashion a new being, shocking his creation to life with electricity. But this botched creature, rejected by its creator and denied human companionship, sets out to destroy Frankenstein and all that he holds dear. Mary Shelley's chilling gothic tale was conceived when she was only eighteen, living with her lover Percy Shelley near Lord Byron's villa on Lake Geneva. It would become the world's most famous work of Gothic horror, and Frankenstein's monster an instantly-recognisable symbol of the limits of human creativity.
Mary Shelley's Frankenstein tells an interesting story of Victor Frankenstein and how he creates the monster that I'm sure everybody is familiar with. It's set in the 18th century, where science was becoming a big thing to study - and throughout the novel the idea of science versus religion (as religion was big at the time that the author wrote the novel) is addressed. This was a fascinating story to read, and I really love how it was structured - as well as how the plot was formed and developed.
I had to read Frankenstein for my English class, as I am studying it for my GCSE in a year and a half. When I first began to read it, the image of a tall, green man with metal bolts came into my head. But when I was introduced to the character himself, the look of Frankenstein's monster compeletly changed. (Just to clarify, Victor's creation isn't called Frankenstein - he is just known as the monster.) I really loved Victor's character, the way that he changed during the course of the novel was phenomenal and his views of the world were clear to understand. Also, I enjoyed seeing Victor develop towards the end of Frankenstein and by the time the novel ended I was sad that I had to say goodbye to him.
The side characters in Shelley's Frankenstein were also cleverly written, I really adored how she introduced them, and the way that she described them. Furthermore, I enjoyed how the characters acted when certain parts of the plot clicked into place - the characters were charming, and I do have to say that R. Walton and the monster are my favourite.
I'm pretty sure that everybody knows the basic story of Frankenstein, but some of the myths of the story were thrown away in the actual novel - and there were more interesting parts to it as well. I found that the language was brilliant and, while it was sometimes hard to follow and understand, I was drawn into the plot. I loved the forshadowing in this novel, it was highly compelling and I think that this is one of my favourite classics to read.
To sum up, I think that Mary Shelley's Frankenstein is brilliant, and I never expected to love reading it so much. Although, I did have a few problems with it - I did think that this was a perfect October/November read. (Many people do say that it is quite scary, but I did read some of it on Hallowe'en and thought otherwise.) I recommend Frankenstein to anybody who adores to delve into a good classic, or that they want to read some gothic fiction.