REVIEW: The Next Together by Lauren James
06:00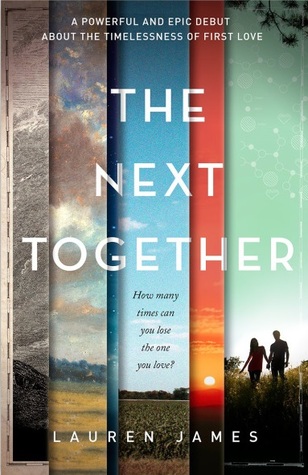 The Next Together by Lauren James.
Published by Walker Books on August, 20th, 2015.
Genres Young Adult, Romance, Science Fiction, Historical Fiction, Contemporary, Fantasy.
Pages 356.
Format Paperback.
Source Brought.

Goodreads Synopsis:
How many times can you lose the person you love?
Katherine and Matthew are destined to be born again and again, century after century. Each time, their presence changes history for the better, and each time, they fall hopelessly in love, only to be tragically separated.
Maybe the next together will be different...
I'm not a huge fan of romance novels. But The Next Together was a fantastic novel that set my racing and it was incredibly fluffy; it was possibly one of the best romance novels I have ever read. Lauren James' writing style is beautiful: it was wonderfully clear throughout, and it was fairly hard to put down for more than a moment. From the moment that I began The Next Together, I was dragged into James' novel and I adored how she laid it out - the concept of her novel was amazing.
Katherine and Matthew are soulmates; destined to be together in every lifetime. But each time they come together, they have to overcome obstacles. The Next Together is set in three different time periods: 1745 in Carlisle, 1854 during the Crimean War and 2039 in St Andrews. Each of these periods had a different reincarnation of Katherine and Matthew - but they still fell in love. My favourite of the time periods was that of 1745 in Carlisle, near the border of Scotland, because it felt so realistic and I throughout enjoyed seeing what Katherine and Matthew were like back then. Lauren James managed to make the different time periods seem accurate - especially the 18th and 19th-century point of views - which left a great impression on me.
I really loved seeing how each of the perspectives from each time period developed, it was phenomenal! Although, I would have loved to have seen the different time periods told from the first person perspective of either Katherine or Matthew because then I would get to feel and understand what the characters feel.
Even though there were only a few things that annoyed me in The Next Together, I really enjoyed Lauren James' stunning debut. As I've said, I'm hardly a fan of romance - but James' book was amazing and I simply thought it was stunning. I'm really glad that I gave this book a shot. I recommend this so, so much!