REVIEW: London Belongs to Us by Sarra Manning
00:00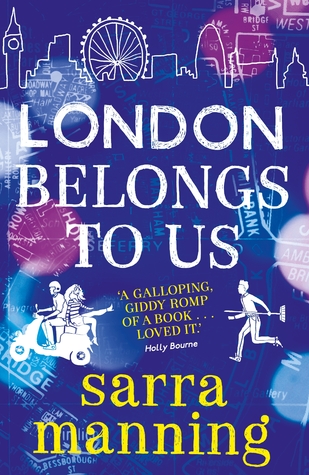 London Belongs to Us by Sarra Manning
Published by Hot Key Books
Publication date June, 2nd, 2016.
Genres young adult, comedy, realistic fiction, contemporary, romance
Pages 272
Format ARC
Source Publisher


Synopsis:
Seventeen-year-old Sunny's always been a little bit of a pushover. But when she's sent a picture of her boyfriend kissing another girl, she knows she's got to act. What follows is a mad, twelve-hour dash around London - starting at 8pm in Crystal Palace (so far away from civilisation you can't even get the Tube there) then sweeping through Camden, Shoreditch, Soho, Kensington, Notting Hill..and ending up at 8am in Alexandra Palace.
Along the way, Sunny meets a whole host of characters she never dreamed she'd have anything in common with - least of all the devilishly handsome (and somewhat vain) French 'twins' (they're really cousins) Jean Luc and Vic. But as this love-letter to London shows, a city is only a sum of its parts, and really it's the people living there who make up its life and soul. And, as Sunny discovers, everyone - from friends, apparent-enemies, famous bands and even rickshaw drivers - is willing to help a girl on a mission to get her romantic retribution.
A giddy, engaging tale that will keep you entertained for hours on end, London Belongs to Us is a delightful novel that depicts London as a city of hopes, beauty, and romance. Manning has been able to create such a realistic and vivid image of London in her latest novel, the way that she describes the city was phenomenal - each place that Manning featured in London Belongs to Us could be pictured clearly. I don't think that I have seen such a fantastic depiction of England's capital.
I thoroughly enjoyed Manning's writing style, it was witty, it kept me glued to the pages, and it was entertaining overall. London Belongs to Us has a well-written plot, it developed fantastically well, it was clear and engaging, and it left me wanting to continue reading each chapter after I had finished the previous one. I thought that Manning's plot for London Belongs to Us was a good-hearted read; it is something that everybody should have a read of.
I liked the cast of characters that Manning had featured in London Belongs to Us, especially the French 'twins': Jean Luc and Vic. They were hilarious and I often found myself smirking at them. I thought that each of the characters were written well, they were likeable and the majority of them were relatable. The London Belongs to Us cast epitomises what it is like to be a teenager: fun, friends, and understanding that not everybody is perfect. The protagonist, Sunny, was an extremely enjoyable character - although, at times, I did find some things that she did a fair bit annoying as they did appear a little bit repetative. Nevertheless, I enjoyed the character as a whole. Although, I do wish that I did see more of certain characters because I liked them so much.
If you're looking for a light-hearted, comedic read that shows the bond between friends, and if you have a lust to travel, then London Belongs to Us is perfect for you. It is the perfect evening read that will keep you hooked for hours on end.
I recieved London Belongs to Us from the publisher in exchange of an honest review, in no way has this affected my thoughts.