REVIEW: A Court of Mist and Fury by Sarah J. Maas (A Court of Thorns and Roses, #2)
00:00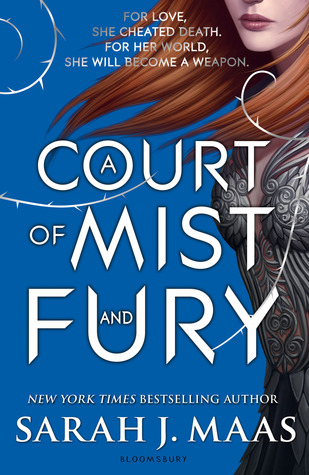 A Court of Mist and Fury written by Sarah J. Maas
Published by Bloomsbury Books
Publication date May, 3rd, 2016
Genres fantasy, romance, young adult
Format paperback
Source brought

Synopsis:
Feyre is immortal.

After rescuing her lover Tamlin from a wicked Faerie Queen, she returns to the Spring Court possessing the powers of the High Fae. But Feyre cannot forget the terrible deeds she performed to save Tamlin's people - nor the bargain she made with Rhysand, High Lord of the feared Night Court.

As Feyre is drawn ever deeper into Rhysand's dark web of politics and passion, war is looming and an evil far greater than any queen threatens to destroy everything Feyre has fought for. She must confront her past, embrace her gifts and decide her fate.

She must surrender her heart to heal a world torn in two.
Whilst
A Court of Mist and Fury
was an enjoyable novel to read; I didn't like it as much as I had originally hoped I would. Though, like most of her novels, Maas' writing kept me engaged throughout the sequel to
A Court of Thorns and Roses
-- but not to the extent that the first novel did.
A Court of Mist and Fury
is set several months after Feyre and her friends managed to escape from Under the Mountain, but as a result the majority of them suffer from PTSD. It was wonderful to see that Maas was including things like this in her novel because they're hardly included fantasy books. Although, later on in this novel, the aftermath of the events in Under the Mountain seemed to had disappeared and it annoyed me as it seemed that the trauma wasn't a big part of the characters' lives any more.
In
A Court of Thorns and Roses,
I loved meeting the new characters that Maas had created. However in this novel, the majority of the characters really bugged me. The protagonist, Feyre, seemed to be really similar to Maas' protagonist in her other series; Celaena in
Throne of Glass
. This was really annoying as I had hoped to see a completely different character with a brand-new personality, but I just thought that Feyre was too similar in more ways than one. Furthermore, Fayre was incredibly hypocritical and throughout this novel I was exasperated with her a lot. In the previous novel, I mentioned that I loved Tamlin - High Lord of the Spring Court - but in
A Court of Mist and Fury
, he has taken the turn for the worst. I really hated how Maas had written Tamlin in her latest novel and it made me quite upset as she chose to portray him in a completely different way.
A Court of Mist and Fury
introduces a whole new set of characters and it was, quite often, hard to keep track who everybody was -- and it even disappointed me even more as there was a lack of the old characters being featured in this book.
With the characters came the different relationships between them and, honestly, that was the thing that annoyed me the most. Rather than focusing on the plot, Maas seemed to have payed more attention to the deep relationships between the characters in
A Court of Mist and Fury
-- which meant that there was
a lot
of romance. In my opinion, the romance got a little bit boring by the time I was 200 pages in. I also didn't like how Feyre's friendships with the old characters changed so suddenly, Maas glossed over this subject and just described the sex scenes in quite graphic detail.
The plot, or what there was, was fairly repetitive.
A Court of Mist and Fury
mainly focused on trying to save the world -- and that was pretty much mentioned on every couple of pages or so. Maas hardly went into detail in this novel, and it often left me confused or frustrated because I didn't understand what was going on. However, what I did like was the descriptions of the different courts and the parts where Maas portrayed the different aspects of the Night Court. The parts that Maas went into detail with was amazing, it set a clear image in my head and it made me feel like I was part of that scene myself.
If you like your romance, then I believe that
A Court of Mist and Fury
is a book you should read -- but if you're looking for an exciting plot, you might be saddened with Maas' sequel to the
A Court of Thorns and Roses
series.