Last weekend was the Young Author Literature Convention, or otherwise known as YALC, which is held annually at London Olympia by London Film and Comic Con. It is a huge book event where publishers, authors, agents, bloggers and book enthusiasts go to, where there are talks, signings and stalls where you can buy and get free things. If you've never gone before, I recommend that you do, it is such a great place to meet people, and even your favourite author(s).

This year I only went for one day, which was the Saturday, but I'm looking to go for the whole weekend next year because, c'mon, it's YALC (and I haven't done a whole weekend since the first event in 2014, and that was awesome). I had A LOT of fun, but I was exhausted by the time I got home, I had left with half a bag full of books to be signed, and I came back with another bag filled with free things. (Note to self: bring more than one bag to events like this, you're going to need it.) (Another note to self: don't lose your camera charger the night before the event, otherwise you're going to have to resort to your low-quality phone.)


From left to right: me, Holly, Amber, Hannah and Lottie
I got to Olympia at around 09:30am, but I had to queue for a bit to get in and then I had a little trouble actually getting into the event. So, annoyingly, I had to miss the majority of my the panel I wanted to go to because I had a little bit of trouble getting into the venue, so I queued super early for Holly Smale as I had several of her
Geek Girl
novels to sign. I then had a lovely chat with one of the girls in front of me about how feminism shouldn't be seen in a negative way (I honestly loved this girl for her views and opinions about this topic), before having a small emotional meet with Smale as she recently published the last novel in the
Geek Girl
series (boo).
After that, I *FINALLY* met
Holly
who I've known for five years on the internet. It was a bit emotional, I must say (there was a lot of hugging). I then met up with
Amber
(you can watch her vlog of the day
here
), who I met in person two years ago at the 2015 YALC and have known for roughly the same amount of time as Holly in the interweb. I was also introduced to the lovely
Lottie
(you can watch her vlog
here
) and
Hannah
, who were awesome to be around for the day.

After a few hours of meeting each other, Amber and Lottie got 'married' at the Stripes Publishing stand, and so did Holly and I. We then ran all over the place because publishers were doing 'proof drops', but we didn't arrive in time for most of them (I think we were all disappointed about missing out on the Stephanie Perkins' proof drop, we exercised for no reason). I was persuaded to vlog by both Amber and Lottie, and then I found out that my phone doesn't record videos for very long (my phone clearly hates me). We went to every stall quite a few times, entering competitions (I won a silver quill pen thing from Fairyloot) and picking up A LOT of free things, little snippets of new books, fans (it was v hot), food and thankfully a tote bag from BKMK for me to put everything in because there was no way in hell that I was going to be able to fit everything into my 'lil rucksack.
Late afternoon was the first ever Teen Blogger meet up, which was AMAZING! We all helped to produce
this video
for Jack (in Amber's words, "he isn't dead"), who is one of the moderators for Teen Bloggers, as he couldn't make it to YALC. It was great to meet other teen bloggers, everybody was so nice!
As soon as the meet ended, I rushed off to get my copy of
We Were Liars
signed by E Lockhart, which is one of my favourite novels of all time (and the most re-read), as well as my copy of
Frail Human Heart
by Zoe Marriott. Thankfully there wasn't a queue for them as they were at the end of their signings (I really hate queuing). I am now the proud owner of a signed copy of
We Were Liars
. I don't think you understand how happy I am about that.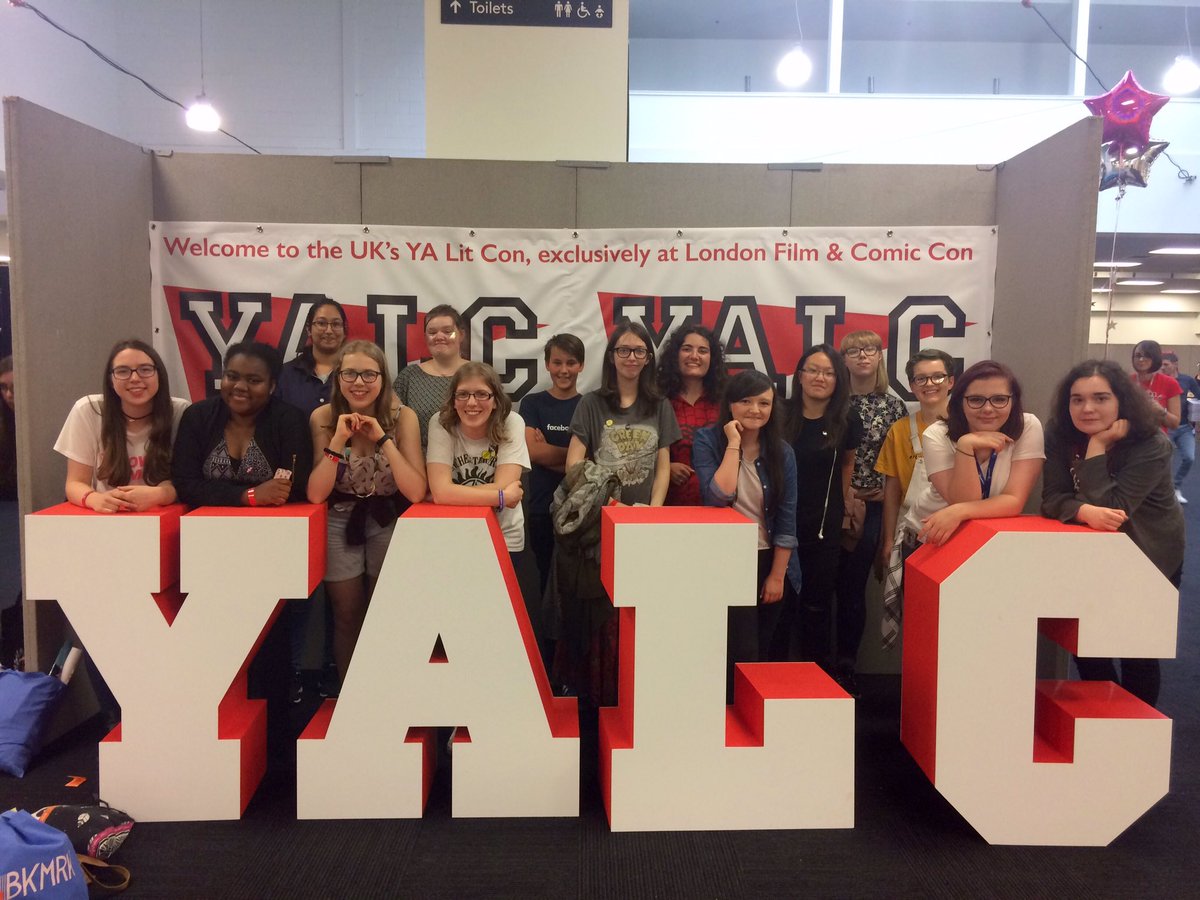 From the Teen Bloggers meet
I also met the amazing
Grace Latter
, who is one of my favourite bloggers ever. I'd be lying if I said I didn't fangirl when I met her. She was so kind and lovely and if you haven't read her blog, I recommend you do!
I was exhausted by the time I got home, my shoulders hurt and all I wanted to have was an early night (I'm a little old lady trapped in a teenager's body, okay?). Honestly, the day was fantastic, it was great to catch up with old friends and meeting new ones, talking to publishers and getting my books signed. I'm looking forward to next year!

Anyway, here is a little haul of the stuff I got: